[tribe_event_inline id="443″]
{thumbnail}
[/tribe_event_inline]
Due to the worldwide Coronavirus (COVID-19) pandemic, the second Annual Asian
Heritage Tournament has been postponed
until further notice. 
Location: Uncommon Charter High School
1485 Pacific St, Brooklyn, NY 11216
When: April 11th Pool Play Games (9am – 5pm) – April 12th
Playoffs (9am – 5pm)
Firm Deadline: TEAM ENTRY FORM AND ENTRY FEE DUE BY
MARCH 27th, 2020 @11:00PM EST
(Deadline is Set No Exceptions!)
Compete for North America's Largest Championship prize ever awarded in an Asian Basketball Tournament! Elite Division Cash Prize: $10,000 USD, Friendship Division Cash Prize: $6,000 USD and Recreational Division Cash Prize: $2,500 USD!
The second Annual Asian Heritage Tournament is sought out to bring together our Asian communities, along with those who love the culture globally, to participate in a fun, competitive and educational experience through sports. Featuring a limited pool of teams, the event will be split into three divisions, Recreational, Friendship and Elite, with the goal of creating parity. With so many Asian sports interest communities spread across the world, our focus is to provide a spotlight on the deep cultural ties between basketball and Asian culture.
Elite Division (Teams looking to play at very competitive level with largest prize pool) Friendship Division (Teams that play in an organized and competitive level) Recreational Division (Teams that want to just play together for fun and the experience, but yet somewhat competitive).
Location – TBA
Quick Snapshot of Tournament Structure:
Randomized Group Pool Games – Officiated by 2 

Experienced/Professional

 Third-party Hired Referees


After Pool Play – Teams will be Ranked based on Win/Loss Record – If tied then by Head to Head Match – Then by Greater Point Margins

Teams will return 

Sunday, April 12th, 2020 to compete in Playoffs

Each Playoff Game will 

Officiated by 3 Experienced/Professional Third-party Hired Referees

In Playoffs – A Certain Number of Top Ranking Teams will receive a 1st Round BYE

Championship Winning Team will be presented with 10 (Ten) Black Marble Wood Finish with Golden 32″ Tall 2019 LunarNYC Basketball Trophies


1 Additional LunarNYC Red Fire Colored White Marble Finish with Golden 20″ Tall MVP Trophy will be handed out to the Most Outstanding Player in the Championship Team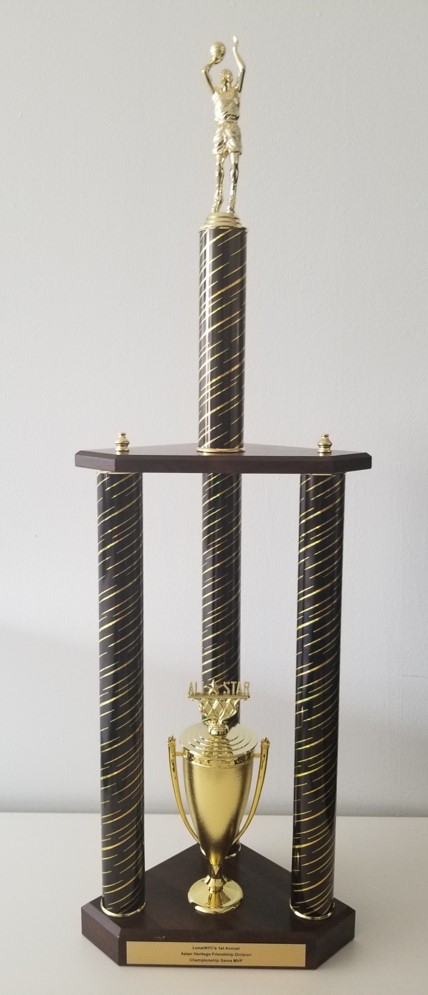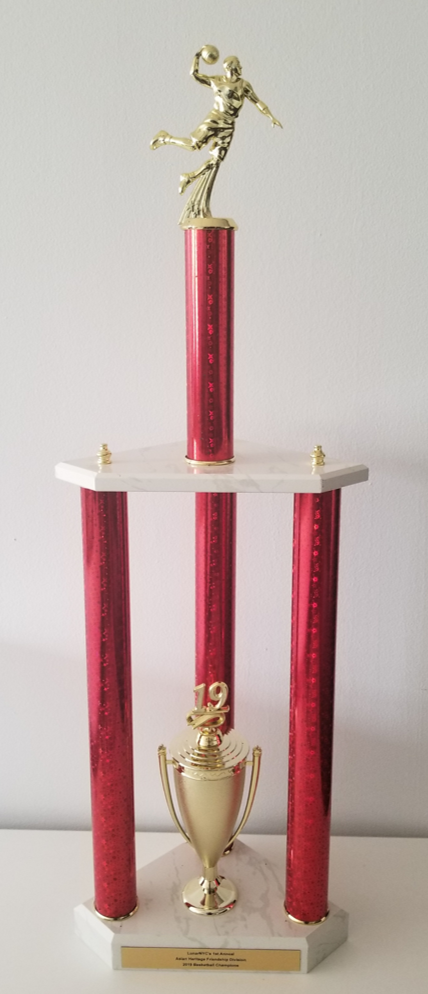 Elite Division = $800 USD

Friendship Division = $600 USD

Recreational Division = $400 USD

Prizes and media coverage:
Elite Division Grand Prize $10,000 (North America's largest championship prize ever awarded in an Asian Basketball Tournament).

Friendship Division Grand Prize $6,000.

Recreational Division Grand Prize $2,500.

1st Annual LunarNYC T-Shirt, designed by an accomplished Asian designer. This will become a collectible!

LunarNYC camera, reporter and media crew coverage for pre and post-game interviews.

LunarNYC accessories and prizes will be given out.

Pre and Post National press release coverage announcing participating teams, celebrity guest speakers, tournament results, all 1st team LunarNYC tournament roster, LunarNYC MVP in both Friendship and Elite Divisions.
Elite Division Winning Championship Team will be Awarded the Highest Cash Prize in any Asian Basketball Tournament in North American History!
Please Note: You must complete the Team Registration Form in order for Payment Fee Page to Prompt 
FOR YOUR TEAM'S ENTRY FEE PAYMENT PAGE OF $800.00 USD for Elite Division, $600.00 USD for Friendship Division and $400.00 USD for Recreational Division.
Please press the PAYPAL pay button. A PayPal account is not required.